Mixed by:Breakfreak32
Year:2011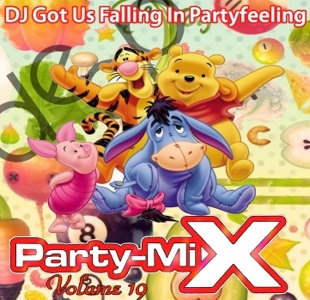 Download Link:
http://www.mediafire.com/?gc2agj33gfin41f
Tracklist:
01. Intro (mixed by Breakfreak32)
02. Modern Talking - Brother Louie
Rihanna - Don't Stop The Music
Taio Cruz feat. Ludacris - Break Your Heart
Kesha - Tik Tok
Stefan Raab - Wadde Hadde Dudde Da
Bloodhound Gang - The Bad Touch
Coolio - Ghetto Square Dance
Gigi Dagostino - The Riddle
Mark Medlock - Maria Maria
Ricky Martin - Maria
Texas - Summer Son
03. Chipmunk - Oospy Daisy
Rox - My Baby Left Me
Jason Derulo - Ridin Solo
The Tamperer feat. Maya - Feel It
Madison Avenue - Don't Call Me Baby
M.C. Sar and the Real - Another Night
Sophie B Hawkins - Right Beside You
Nek - Laura Non Ce
04. Lucky Twice - Lucky
Vadalism and Static Revenger - Vegas
David Guetta - Sexy Bitch
Laserkraft 3D - Nein Mann
Daft Punk - Technologic
Inna - Hot
Madonna - Hung Up
Erika - I Don't Know
Las Chicas feat. Loco - Lambada 2002
05. Phil Fuldner - Miami Pop
Dr. Alban - It's My Life
Deichkind - Arbeit Nervt
Eddy Grant - Gimme Hope Joanna
Liquido - Ordinary Life
Vengaboys - We Like To Party
Duffy - Mercy
Lmfao - Party Rock Anthem
Fancy - Pretty Woman
Der Partynator - The Time of my Life
O-Zone - Dragostea Din Tei
Rashni - Baboushka
Sylver - Turn To Tide
06. Solid Base - This is How We Do It
Fun-Tc - Crazy
Hampton The Hamster - Hamsterdance
Alex C - Dancing is Like Heaven
Roxette - Stars
Leticia - Mamae Eu Quero
Dominoo - Run Run Away
Rimini Project feat. Sarah K - Wake Up
Interactive - Forever Young
07. Mr. President - Coco Jambo
Mary Mary - Shakles
Culcha Candela - Hamma
One T and Cool T - The Magic Key
Ini Kamoze - Here Comes The Hotstepper
Mn8 - Ive Got A Little Something For You
Charles and Eddie - Would I Lie To You
Dna feat. Suzanne Vega - Toms Diner
Anastacia - Sick and Tired
Nelly Furtado - All Good Things
Meja - All about the Money
08. Shifty - Slide Along Side
Five - Slam Dunk
Culcha Candela - Hamma
Solid Harmonie - I Want You To Want Me
Desree - Life
Crazy Town - Butterfly
Robbie Williams - Rock DJ
Los Del Rio - Macarena
Backstreet Boys - Everybody
Britney Spears - Stronger
N-Sync - I Want You Back
Samantha Mumba - Gotta Tell You
No Angels - Like Ice In The Sunshine
09. Beach Bumpers United - Fieta De La Noche
Baby Alice - Pina Colada Boy
Mousse T with Roachford - Pop Muzak
Aquagen - Warum Seid Ihr So Leise?
Londonbeat - I've Been Thinking About You
Frankie Goes To Hollywood - Relax
Paola and Chiara - Vamox A Bailar
Leann Rimes - Cant Fight The Moonlight
Flo Rida feat. David Guetta - Club Can't Handle Me
Seeed - Ding
10. The curt NDW-part
Andreas Dorau und die Marinas - Fred vom Jupiter
Clowns and Helden - Ich liebe dich
Heinz Rudolf Kunze - Dein ist mein ganzes Herz
Fräulein Menke - Hohe Berge
Jawoll - Rendezvous
Geier Sturzflug - Bruttosozialprodukt
Markus - Ich will Spaß
Steinwolke - Katherine Katherine
Geier Sturzflug - Bruttosozialprodukt
Rio Reiser - König von Deutschland
Fräulein Menke - Treetboot in Seenot
UKW - Sommersprossen
11. 90s-part (mixed by Samus Jay)
Intro
Snap - The Power
ATGOC - Repeated Love
Nightcrawlers - Push The Feeling On
Reel 2 Reel - I Like To Move It
Smash n Grab - On The Dance Floor
Da Hool - Meet Her At The Love Parade
Wildchild - Renegade
666 - Amook
Corona - Rythm Of The Night
2 Static - Feel The Beat
DJ BoBo - Sombody Dance With Me
2 Unlimited - Tribal Dance
La BOuche - Be My Lover
Corona - Baby baby
C&C Music Factory - Everybody Dance Now
Sequential One - My Love Is Hot
Motiv 8 - Rocking For MySelf
Kadoc - The Night Train
Novy Vs Eniac - Superstar
DJ Cerla - Everybody Pom Pom
Afrika Bambatta - Feel The Vibe
Sqeuential One - My Love Is Hot
ATB - 9PM (Till I come)
Geal - The MUsic Is Moving
ICE MC - Think About The Way
Culture Beat - Mr Vain
KLubbheads - Kicking Hard
Alex Party - Wrap Me UP
666 - Paradoz
Jens - loops & Things